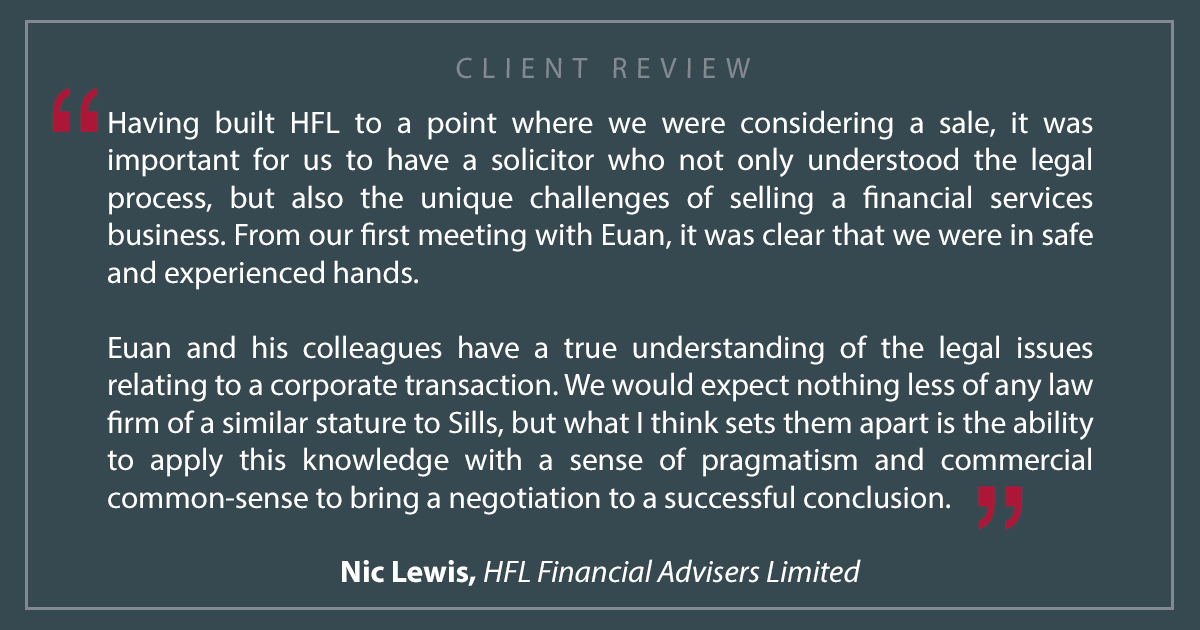 Many solicitors act on the sale of a business. In some cases, they will treat all business sales in the same way, regardless of the nature of the business. This is a very dangerous approach, because understanding the particular risks and issues affecting the specific business you are selling is critical to giving accurate and proportionate risk advice.
At Sills & Betteridge, our Corporate solicitors take the time to get to know both a business and its owners, in order to give detailed and client-specific advice. We have particular experience and expertise in respect of financial services businesses – whether it be general financial advisors, pensions advisors, mortgage brokers or similar.
The purpose of this article, written by Euan McLaughlin, is to give owners of such businesses an idea of some of the issues they need to think about in advance of any potential sale.
Are you directly authorised, or an authorised representative (AR) of a principal firm? If it is the latter, this will fundamentally affect our advice to you on which warranties/indemnities are reasonable in the circumstances. It is also likely that, if you are an AR, your principal firm will need to have some involvement in the due diligence process for selling your business.
Client Agreements: you will already have a number of obligations in respect of written agreements with your clients, and the retention of such agreements. Part of the due diligence process is likely to be providing evidence of your compliance with FCA requirements on client agreements, so it is a good idea to ensure you have a clear and easily searchable records system.
Your future: it is unusual in the context of financial services for a seller to simply "walk away" after selling the business. More commonly, an "earn-out" period of 2 or 3 years will apply, with a reasonable chunk of the purchase price being dependent on the business' performance during that period. You need to consider both how long you are willing to commit to the business post-sale, and the conditions (for example, full-time or part-time).
Personal obligations: although (in most cases) it is a limited company that you are selling, you may also have elements of personal liability associated with the business. For example, you may have given a personal guarantee in relation to a premises lease, or in respect of bank borrowing. It is important to have a complete list of any such liability, to ensure that it is picked up during negotiations. This type of personal liability is more common in financial services businesses, where there aren't typically expensive pieces of machinery or equipment to secure borrowing/debt against.

Restrictive Covenants: it is inevitable that, as part of ensuring they get maximum value for the business they are buying from you, the buyers will want to restrict what you can do in competition with them for a period after completion. You need to think through carefully what your intentions are, to ensure that these are properly addressed at an early stage in negotiations.
Euan recently acted for the shareholders of HFL Financial Advisers Limited, Nottingham, in their multi-million pound sale to a large financial advisory group.
Selling shareholder Nic Lewis commented:
"Having built HFL to a point where we were considering a sale, it was important for us to have a solicitor who not only understood the legal process, but also understood the unique challenges of selling a financial services business. From our first meeting with Euan, it was clear that we were in safe and experienced hands.
Our experience of working with Euan and his colleagues at Sills & Betteridge was that they have a true understanding of the legal issues relating to a corporate transaction. We would expect nothing less of any law firm of a similar stature to Sills. What I think sets Euan and Sills apart is the ability to apply this knowledge with a sense of pragmatism and commercial common-sense to bring a negotiation to a successful conclusion."
If you would like to discuss a similar position in further detail, please contact Euan McLaughlin on 01522 700490