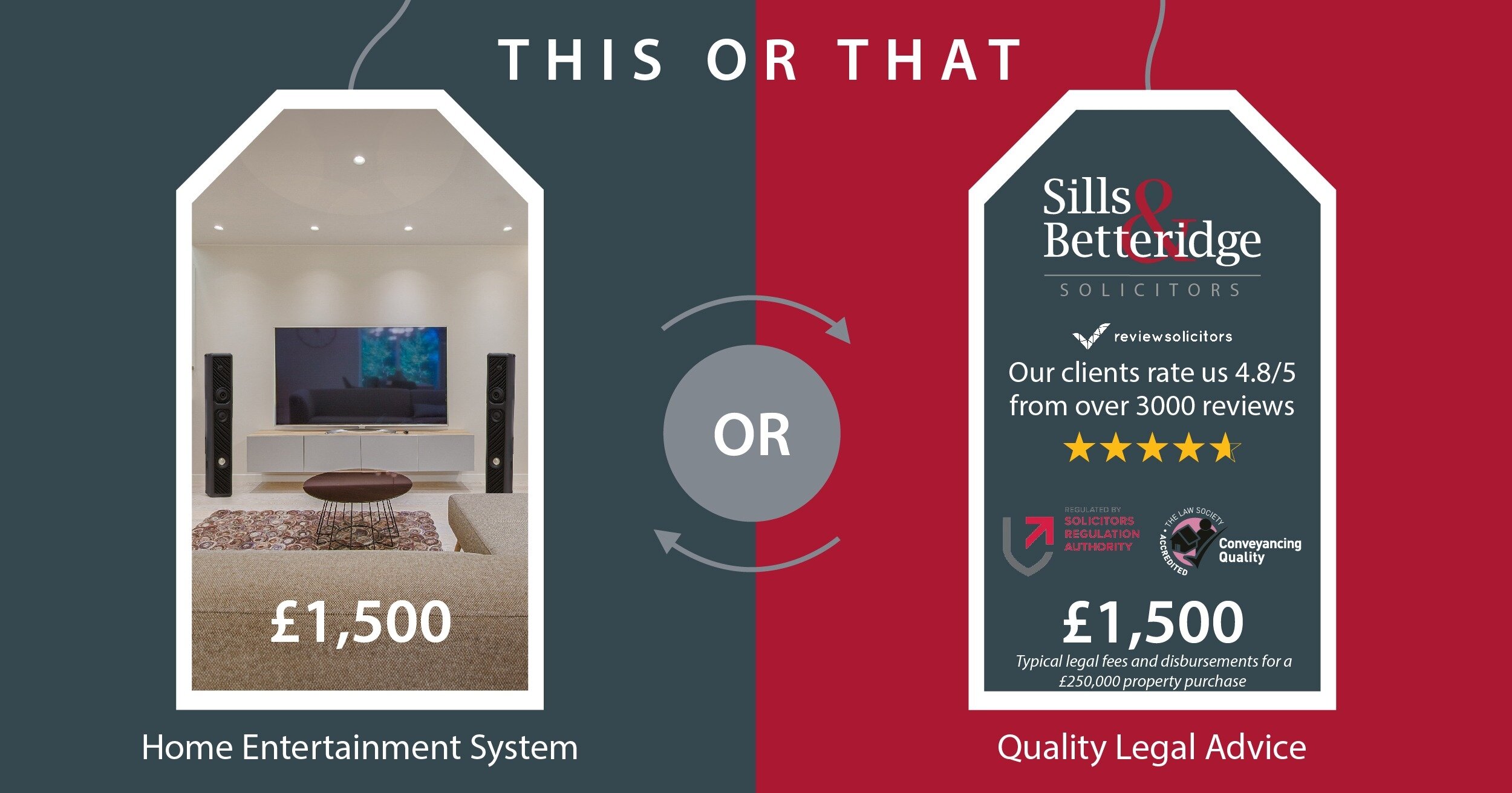 Do you value the expertise of your property legal advisor more than a fancy home entertainment system when you could be buying the biggest asset of your life? We do too!
Things you should consider when choosing a Conveyancer:
1. Accreditations
Make sure your Conveyancer is a professional, regulated by either the Solicitors Regulation Authority or the Council for Licensed Conveyancers. They should also be members of the Conveyancing Quality Scheme. Mortgage Lenders will not proceed unless your Conveyancer meets these criteria.
2. Reviews
Look on their website. Google them. What do their existing clients say about their service? If your potential Conveyancer has a low average review score, you may want to think twice before instructing them.
3. Estate Agents or Financial Advisors Recommended Conveyancer
Estate Agents and Financial Advisors may recommend a Conveyancer to you. Ask whether they are making this recommendation purely based on the Conveyancer's excellent reputation for service, or because they are paid to. Some Estate Agents and Financial Advisors may receive referral fees for every client they recommend to a Conveyancer. A referral arrangement isn't necessarily a bad thing for you, however, both parties are legally obliged to disclose a financial arrangement to you.
4. First Impressions Count
You may have requested a quote by phone, email or a through a website. How did you find the service you received at that stage? Were you able to speak some someone quickly if necessary? Were they able to efficiently deal with your questions? Did they take the time to discuss your circumstances with you so that they could fully understand what you need, and give a comprehensive quote?
5. Individuals
Will you be dealing with one named individual throughout your transaction? If you would like to be able to ring direct dials and reach consistently reach a small team of people who know all about you and your transaction, this will be important.
You may also wish to investigate the experience and any formal qualifications of the person undertaking your sale or purchase. You are likely dealing with the biggest asset you own. Are you confident that your Conveyancer has the knowledge and skills to give you the detailed legal advice you need?
6. Technology
Many Conveyancers have portals which they use to communicate with you during your transaction. How will your Conveyancer communicate with you? If you would prefer to meet with your Conveyancer face-to-face, can they arrange this?
7. The Quote
Is the quote you receive fully comprehensive? Or does it say £Low Legal Fee!!*
*but here are a long list of other charges which may or may not apply, which you might not realise you need to pay until we get to the end, written in tiny writing.
Make sure you ask for a quote that includes ALL costs including legal fees, Stamp Duty, Land Registry and the VAT. You need to be able to compare the quotes you receive on a like-for-like basis.
8. The Conveyancers usual workload
Don't be afraid to ask your potential Conveyancer how many clients they normally have at once. A Conveyancer with 75 clients may have more time to dedicate to you and your transaction than a Conveyancer with twice as many clients.
9. The Conveyancers average time to achieve exchange of contracts.
The all-important question for home buyers; 'when can I get my keys?' There are many factors which may delay progress of a property transaction. Many are outside of the Conveyancer's control. However if a Conveyancer quotes an average turnaround time which is much greater than the other Conveyancers you have spoken to, you may question why that is?
10. The Price
Of course, the total price is important. Buying a house is an expensive undertaking. Beyond the purchase price is the survey, mortgage fees, legal fees, tax, searches and removal costs. Then you need to budget for furnishing; redecoration; building or repair works. The list goes on.
After asking all the questions in points 1-9 above you may find that, whilst one Conveyancer may be a little more expensive than another, the extra service you can expect to receive is worth the additional cost.
As in so many other life situations, you cannot usually have Fast; Cheap and Good simultaneously.