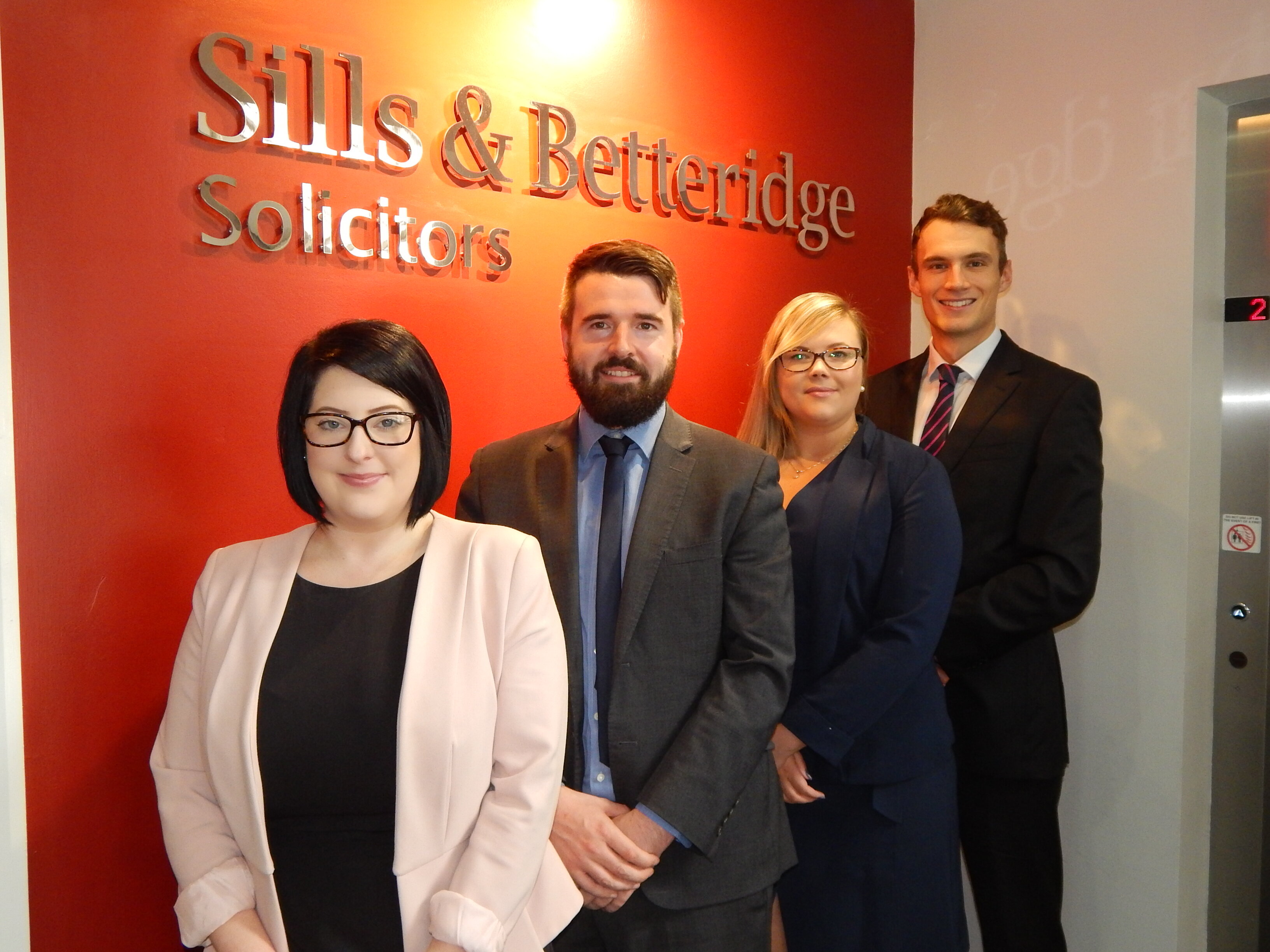 FOUR QUALIFY AS LEGAL ADVISERS USING DIFFERENT STUDY METHODS
Four legal advisers from East Midlands law Firm Sills & Betteridge LLP have passed their final qualifications. Each has followed a different route to qualification, demonstrating that there are many ways to access a career in the legal profession, as long you know the routes and are prepared to study hard.
The four individuals are Calum Hanrahan, who is now a qualified solicitor specialising in immigration, Natalie Wright who has qualified as a solicitor specialising in wills, trusts and probate matters. Dominic Lee who has qualified as a solicitor and now specialises in family related work, and Jemma Burt who has qualified as a Chartered Legal Executive and specialises in personal injury matters.
Whilst each went to university and achieved law degrees, personal circumstances and preferences meant their career paths followed various routes towards qualification. Both Dominic and Calum worked in industry before gaining their training contracts and following the LPC and CILEx routes,
whilst Natalie and Jemma both joined the Firm in support roles and have worked their way up, fast-tracking their careers via LPC and CILEx.
Commenting, HR Manager Kelly Credland said, "We realise that in order to attract the best talent and secure the future of the Firm we must help smooth the road to qualification. We have to ensure a career in law is accessible to everyone with the desire to learn, regardless of their personal circumstances. I am delighted that the Firm has another four experts qualified to give legal advice."
Calum read law at Nottingham Trent University and studied for a Masters in Sports Law. He then took his Legal Practice Course (LPC) at the University of Sheffield in 2011 and enjoyed a short career managing a well known high street health and beauty retailer. Calum then joined Sills & Betteridge LLP in July 2013 working as a paralegal in the crime department. His enrolment with the Chartered Institute of Legal Executives (CILEx) as a Graduate member led to qualification as a Fellow in July 2017, following which he applied to the Solicitor's Regulation Authority (SRA) to qualify as a solicitor and became fully qualified in September 2017. He is also an Accredited Police Station Representative.
Commenting he said, "I have followed an unconventional route to qualification and I have thoroughly enjoyed it.  Where a traditional trainee would spend 6 months in 4 different seats I have spent 3 years with the same partner working on a whole variety of contentious and non contentious matters, and I hope to continue my legal career at Sills & Betteridge LLP and one day become a partner."
Natalie Wright joined Sills & Betteridge LLP in 2013 after completing her Law Degree with European Legal Studies at the University of Hull and the University of Utrecht in the Netherlands.
She initially joined Sills & Betteridge LLP in an admin support role providing support to fee earners across every department. To fast-track her career, Natalie left the Firm for 7-months to study full time to obtain her Legal Practice Course (LPC) and was subsequently offered a Training Contract. Natalie is now running the Wills, Trusts and Probate Department in the Firm's Gainsborough office. Her next career goal is to become a qualified Society of Trusts and Estate Practitioner (STEP).
Commenting, Natalie said, "During my first 6 months with Sills & Betteridge LLP I spent time in all eight offices providing support to fee earners across every department. This whetted my appetite to take legal qualifications and since then, Sills & Betteridge LLP has supported my learning and this all rounded experience, method of study and exposure to all departments has helped me develop as a legal adviser."
Dominic Lee graduated from the University of Nottingham in 2013 with a law degree. He chose to gain a better understanding of how a business operates by having real life commercial experience working for one of the country's leading mobility aid retailers. He went back to university in 2014 to commence the Legal Practice Course (LPC) at the University of Law.
Having graduated from the Legal Practice Course with a distinction, Dominic commenced a training contract at Sills & Betteridge LLP and is now a qualified solicitor in the Family Department.
Commenting Dom said, "It was during the Training Contract that I started to develop a passion for family law. I've worked on a range of matters from divorce proceedings to children proceedings, shadowing counsel at the High Court on an international child abduction case. I have relished having the opportunity to develop and my supervisor has given me tremendous support."
Dominic's goal now is to become a Family Resolution Accredited Member and to continue representing clients and developing his experience.
Jemma Burt completed a degree in law at the University of Lincoln, graduating in 2011. Very keen on a career in law, but not wishing to study immediately, and conscious of student debt, Jemma opted for paid work and joined Sills & Betteridge LLP in November 2012 as an office assistant. Her aim was to start at the bottom and work her way up.
Commenting Jemma said, "During my time as an office assistant I witnessed several colleagues working towards their Legal Executive qualification, organised and funded by Sills & Betteridge LLP. After a year working as an office assistant I was offered a junior paralegal position in the Personal Injury Department."
Having taken on her own case load, Jemma opted to also study at the weekends to do the Graduate Fast Track Diploma, and qualified as a Chartered Legal Executive in June 2017.
Jemma added, "I decided that it was the best option for me. It was difficult to study at the same time as learning how to do a new job, but I am really glad now that I chose to take this route. I am grateful to Sills & Betteridge LLP for the opportunities they have offered me. I started at the Firm without any office or legal experience and I am now a Chartered Legal Executive. I would not have been able to do this without their support."
Her next goal is to become an Accredited Personal Injury Practitioner under the SRA scheme.
Photograph (from left to right):
Jemma Burt, Calum Hanrahan, Natalie Wright, Dom Lee