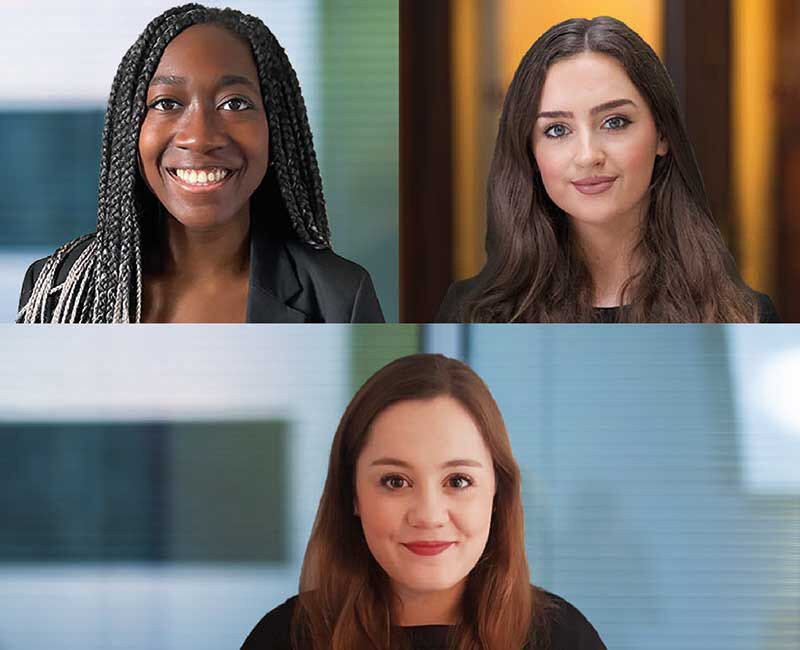 We welcome three new trainee solicitors to the firm this month. Lara Adeniyi, Alice Radford and Esther McGillivray join us to start their 2 year training contracts where they will work with a number of teams to gain hands on experience of different areas of the law.
Lara joins us as a graduate of the University of East Anglia in Norwich, where she obtained her Law degree, and the University of Nottingham where she then obtained a distinction in her Legal Practice Course (Msc in Law, Business and Management). Lara starts her training in the Commercial Litigation team in Lincoln. She will deal with a range of commercial disputes and civil matters, involving landlords and tenants, property, land and boundaries.
Nottingham Trent graduate Alice, who obtained a first class honours degree and completed her Legal Practice Course with a distinction starts her training in the Family Department in Nottingham. She will work on a varied caseload with the Emergency Team.
Esther graduated from the University of Lincoln in 2018 and joined us later that year as a paralegal. Whilst working for the firm full time, Esther completed her Legal Practice Course at Nottingham Law School on a part time basis. Her first seat is in the Family Department in Lincoln, where she will work on a wide range of family and children cases.
Partner and Training Principal Alison Hurton "We invest heavily in the selection and development of our trainee solicitors. Our goal is to build upon the skills and knowledge acquired during their academic studies and develop them to become the region's most competent practising lawyers. With the right support, we believe that trainees learn the most and perform their best when they are immersed into the department and given responsibility for their own caseload quite quickly, including, where appropriate, some court advocacy. Lara, Alice and Esther are excellent new recruits with huge potential and we are delighted to welcome them to the firm."
Pictured above: Top L- R Lara Adeniyi, Alice Radford and bottom Esther McGillivray