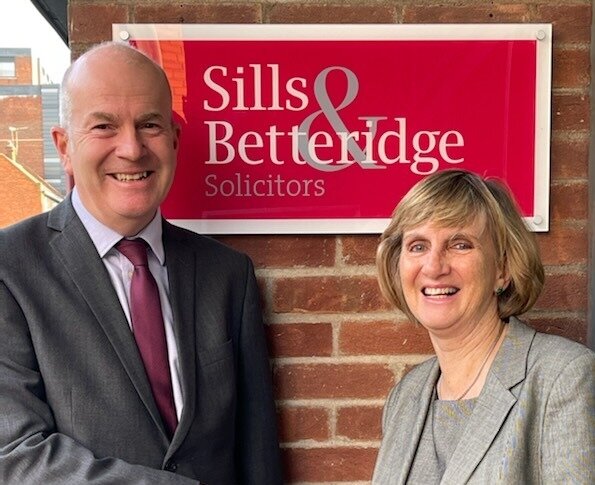 Following an incredible 43 year career at Sills & Betteridge, distinguished solicitor Stephen Wilson retired as the firm's Senior Partner on 31st December 2021. His position was taken over by Karen Bower-Brown, the first woman to become Senior Partner in the 260 year history of the firm.
Lincoln born Stephen joined Sills & Betteridge as an articled clerk in February 1979. He qualified as solicitor in 1981 and became partner in 1985. Stephen spent the first 10 years of his career handling a mixed case load of work before dedicating all of his time to litigation, ultimately specialising in complex personal injury and clinical negligence matters, until he retired.
Notable achievements in Stephen's career include his appointments as Deputy District Judge and President of Lincolnshire Law Society and being admitted as a Fellow of the Association of Personal Injury Lawyers.
Stephen commented "I have been lucky to have such an interesting and varied legal career, all of which I spent at Sills & Betteridge. My greatest satisfaction has been recovering compensation for my clients, some of whom had suffered catastrophic injuries or the devastating loss of loved ones. It also gives me huge pride to know that I have helped drive the growth of the firm, from a small local practice when I joined, to the large, thriving regional firm it is today."
Having spent 30 years dominated by court deadlines, Stephen looks forward, initially, to a long rest. He will then spend time walking in his beloved Yorkshire Dales and exploring other beautiful areas of the British Isles, improving his golf handicap and spending time in the garden. He will also be found working behind the bar of his local village social club!
Stephen's successor Karen Bower-Brown, current head of the firm's commercial department, joined the firm in 1999 following a position at a London firm located near Green Park where part of her remit was to advise staff in the Royal household. Karen now specialises in litigation work including commercial, contract and property disputes, as well as contentious trust and probate work for which she is a recognised specialist.
Karen says: "I feel very proud to have been asked by the partners to take on the role of Senior Partner following Stephen Wilson's retirement. The firm has gone from strength to strength since I joined as an assistant solicitor in 1999 when there was one office in Lincoln. Now we have 15 offices in Lincolnshire, South Yorkshire, Nottingham and Northampton. Although Covid has proved to be a challenge for the firm, we have weathered the storm extremely well and I have no doubt that the firm as a whole has a bright future. I take the opportunity to thank Stephen Wilson for his contribution to the firm over the last 43 years including as Senior Partner. I wish him all the very best for the future."
Pictured, Chief Executive Martyn Hall and new Senior Partner Karen Bower Brown