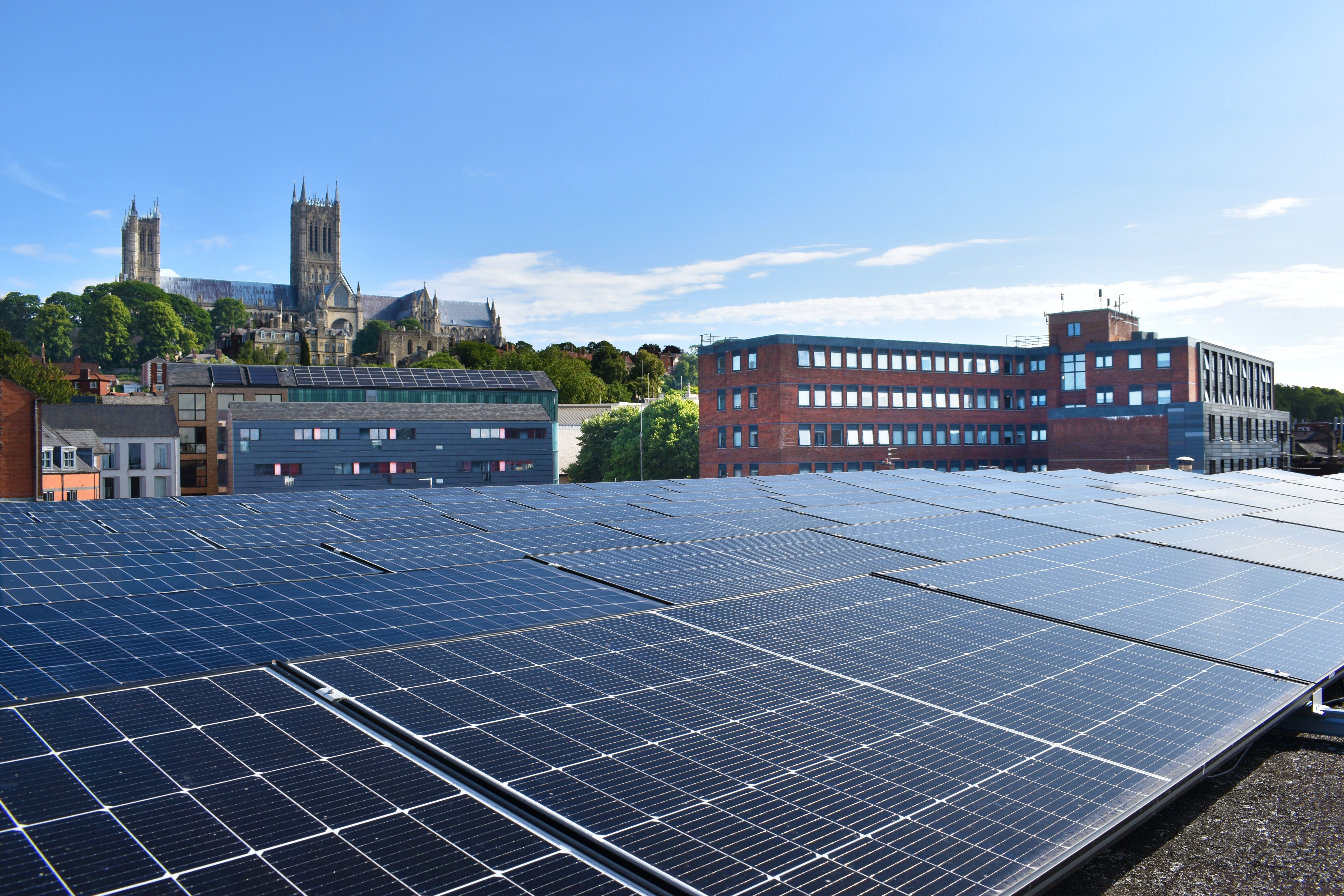 We are delighted to announce the introduction of a range of energy saving, carbon emission reducing initiatives.
Our largest undertaking is the recent installation of 79 solar panels to our central Lincoln Head Office with the aim of generating 1/3 of the site's total energy usage – for 4 months of the year, solar energy will fully power the 4 floor office.
Derrick Denton, Director of UK Alternative Energy of North Hykeham in the city who managed the project said of the install
"With Sills & Betteridge now occupying the whole of Aquis House, the challenge was to find a solar solution to help reduce the energy use within the building. A total of 79 x 405 W Canadian solar panels giving a system size 30.37kw, 3 x 10kw Solis inverters have been installed using a flat roof mounting system. This system has been equally split throughout the building and connected to the consumer units within the plant room. This system should see 25,000kwh of electricity generated each year and should see a saving of around six tons of CO2 every year. All the inverters are online, and the system can be displayed and monitored from anywhere in the world".
Another investment has been the purchase of a new MG ZS Electric Hatchback car, bought to replace one of the firm's diesel vehicles. It will be used by members of the firm to attend client appointments, external meetings and events. A charging point has been installed at Aquis House which clients are welcome to use when they are when visiting for appointments. The firm aspires to have a fully electric fleet by 2025.
Remote working and online video meetings are encouraged to help reduce avoidable travel across the region. Such methods became very popular with both clients and employees, further to their introduction during lockdown.
Digital and paper-light file management and document storage are another efficiency that the firm is embracing, to cut down on paper consumption and the cost of print and archiving. Document management system iManage is being rolled out across the firm to support its main practice management system.
Even the firm's website www.sillslegal.co.uk is green, as verified by The Green Web Foundation, an independent non-profit organisation which tracks how much of the internet runs on green energy. Developed by DBS Internet Marketing, the site minimises the use of resources (and therefore energy) through quick download speeds and user-friendly navigation on all classes of device - and their hosting partner OVH used either renewable or low-carbon energy for 77% of its power last year with plans to increase it to 100%.
Chief Executive Officer of Sills & Betteridge, Martyn Hall said
"Like many law firms, we are working hard to understand the impact of our operations and working methods on the environment and are actively seeking to reduce our overall carbon footprint with the initiatives and best practices outlined above. Our team have welcomed the new projects and we look forward to introducing more across the wider firm."