Trainee Testimonials
Fay O'Halloran
I started my training contract with Sills & Betteridge in September 2018.
Prior to starting at Sills & Betteridge, I studied my undergraduate degree at the University of Sheffield. I was also fortunate enough to spend a year of my undergraduate degree studying at Lund University in Sweden. I then completed the Legal Practice Course at Nottingham Law School.
I found Sills & Betteridge to be a great fit for me, as I wanted to undertake a traditional training contract with a variety of different seats. My first seat was in the Wills, Trusts and Probate Department, where I spent 6 months building my confidence, meeting clients and improving my drafting skills.
My second seat was in the Family Department and this was such a contrast from Wills, Trusts and Probate. I was able to build on my previous paralegal experience which I had gained at a local family firm and I began conducting my own advocacy. As I am sure many trainees and newly qualified solicitors will agree, you do not forget your first time in Court!
My third and final seat was in the firm's Commercial Litigation Department. The variety of work in the litigation department meant that no two days were the same and I knew almost immediately that this was the area I wanted to practice.
I feel privileged to have undertaken my training contract at Sills & Betteridge. I felt supported throughout and the culture of the firm means that it genuinely is an enjoyable place to work. There is a good balance between ensuring that trainees have enough exposure and responsibility, but also enough support and training. In each department that I have worked in, each of my colleagues was always friendly and approachable, which made the experience all the more enjoyable. I have no doubt that I developed both personally and professionally during my training contract and I was delighted to qualify into the Commercial Litigation Department in September 2020.
Elliot Ruffle
With my Training Contract due to start with Sills & Betteridge in September 2016 I was asked if I wanted to join the firm early as a family law paralegal to fill a vacancy that had arisen. I jumped at the opportunity which then set me up nicely for my first 6 months of my training contract in the same team.
I went on to complete periods of training in the firm's commercial litigation and corporate and commercial teams. I qualified as a solicitor in September 2018 as a member of the corporate and commercial team.
The hands on experience I gained during my training in an array of corporate and commercial matters, which ranged from running my own files to conclusion to assisting larger teams on multi-million pound deals, meant that I could hit the ground running on qualification.
Kia Butterfield
I joined Sills & Betteridge as a Trainee in July 2018 having left my previous firm to relocate back home to Skegness. Previous to this I completed my undergraduate degree at the University of Law in York and my Legal Practice Course with Masters in Professional Legal Practice at the University of Law in Leeds.
My first seat with Sills was in Commercial Property. This was completely different from the type of work I had encountered at my previous firm being Serious Injury, Medical Negligence and Court of Protection.
Initially I was apprehensive to join the department as I hadn't particularly enjoyed Land Law at University but I was pleasantly surprised at how different the work is in practice and how much I did enjoy it once I got my teeth into it.
There seems to be a general misconception that you have to work a lot of extra and unsociable hours to be successful in commercial seats but this is not the case at Sills at all. In fact, the firm as a whole is great at prioritising their employees' welfare meaning that no-one is expected to stay longer than the standard opening hours and you are encouraged to speak up if you are ever finding your workload difficult to manage. I was in Commercial Property for 11 months and had exposure to a wide variety of matters including Option Agreements, Grant, Assignment and Surrender of Leases, Conditional Contract and Business Sale Agreements to name a few. In this time I built up a great relationship with my supervisor and towards the end of the seat I was meeting clients alone when I felt comfortable to do so and running purchase and sale matters with minimal supervision, whilst assisting on more complex matters to broaden my experience. I am now in the Conveyancing department in Skegness which is my final seat and the department I will be qualifying into in September 2019.
For me one of the best parts about working for Sills is their commitment to training. As a Trainee you are encouraged to attend all training events such as external case law updates, including those that don't relate to your current seat, meaning that you can get a flavour for the work in other departments which may influence your future seat preferences. They also have a very helpful dedicated training team and a training platform called Riliance where you can watch webinars relating to any department.
I have worked at both the Lincoln and Skegness branches and have also visited the offices at Spilsby and Boston for client appointments. Everyone in the firm is very welcoming and approachable. Recently there was a firm wide trip to Tattershall Lakes and there is always a good opportunity to catch up with colleagues from other branches at the annual Christmas Party!
Sarah Rowe
I began my Training Contract with Sills & Betteridge LLP in December 2016.
Prior to this I had worked as a Secretary in a Criminal department and also a Paralegal in a Childcare department of a Local Authority.
I completed my undergraduate degree at The University of Lincoln and my Legal Practice Course at De Montford University, on a part time basis.
The first seat of my Training Contract was in the Family department for a year. My time was split between Public and Private Children, Domestic Violence, Divorce and Financial Proceedings. I thoroughly enjoyed this time in the Family department and felt that I was given a lot of responsibility. For example, I conducted my own advocacy. I had a very close relationship with my supervisors and felt that I could ask them anything.
I then spent nine months in the Commercial Litigation department. This time taught me a lot about drafting and a different area of law completely. I enjoyed my time in this department and, again,, had a close relationship with my supervisor.
The Family department then asked me if I would, using my past legal experience qualify early into the department. I accepted and qualified as a Solicitor in September 2018.
I enjoyed every aspect of my Training Contract with Sills & Betteridge LLP. I felt I was included by all levels of management and it is very much an "open door" policy for everyone.
I feel that my training prepared me very well for life as a Solicitor, which I now enjoy.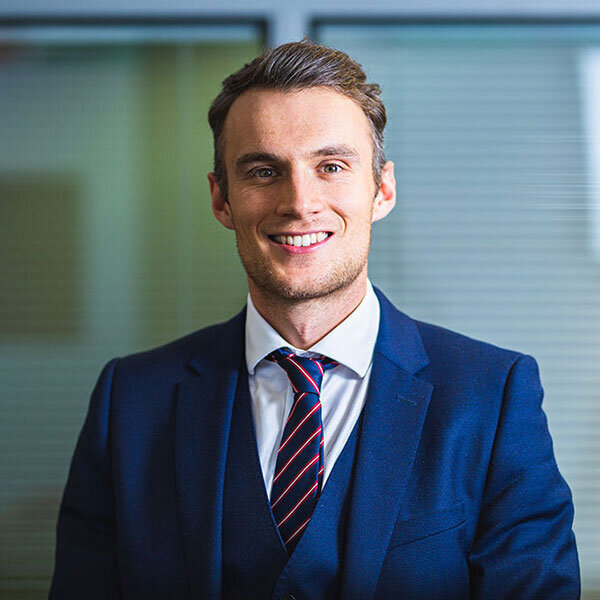 Dominic Lee
I started my training contract with Sills & Betteridge in September 2015. After studying law for four years at university I was excited to put into practice what I had learnt and I couldn't wait to start my training at this long established and well respected law firm.
Being able to take on meaningful responsibility as a trainee solicitor from day one has definitely been one of the highlights of my training contract to date.
My first seat was in the Family Department with a focus on matrimonial finances and child law. Having studied family law as an elective on my LPC it was great to be able to apply what I had learnt. The Family Department is a fast paced environment and each day was truly different. If I had to describe a 'typical' week, it would have consisted of assisting counsel in the Family Court in care proceedings on a two day final hearing; spending a day at our Boston office meeting clients as part of our Moving Forward Scheme and drafting legal documents with the supervision of my principal such as Case Summaries and Position Statements to be used in financial proceedings. One of my most memorable days was assisting counsel at the Royal Courts of Justice in London on an international child abduction case.
I'm now approaching the end of my second seat in the Commercial Litigation Department. Being a large regional firm, Sills & Betteridge is able to offer trainees a varied training contract which is brilliant. With the assistance of my principal I feel like I have really developed my drafting skills in this seat as well as my commercial awareness generally. As a trainee, all our work is closely supervised. There's very much a culture of being 'part of the team' and feedback is always given in an informative and constructive manner. There are also regular training course organised by the firm (Sills & Betteridge is an accredited Investor in People and can award CPD) and weekly webinars on a Thursday lunchtime.
There are lots of opportunities to get involved in activities outside of the work place. I play football with a number of colleagues in a local six-a-side league. I've attended job fairs to promote the firm, workshops in an immigration detention centre and taken part in the Lincoln 10km run with colleagues.
I'm originally from Cheshire and was new to Lincoln when I started my training contract. Lincoln is a beautiful, compact city. There's always something going on. I love it because I'm able to get on my bike after work and get into the countryside. Being a keen cyclist, Lincolnshire is perfect for long rides in the saddle! There's also lots of great sports facilities such as swimming pools/lakes, gyms and a running track.
Jessica Firth Brown
I began my Training Contract with Sills and Betteridge in September 2013, having completed my Degree at Bristol University. Originally from North Yorkshire I relocated to Lincolnshire in 2011. Since working at Sills & Betteridge I have bought a house and plan to remain in the area for the foreseeable future. I have found Lincolnshire to be a lovely place to live, there is plenty to do and it has excellent transport links.
Prior to my Training Contract commencing, I worked in the Firm's Family Department as a paralegal. Here, I immediately gained hands on experience with client files.
My first seat as a Trainee Solicitor was in the Family department. After working for some time in the department I was looking forward to the extra responsibility of being a trainee. I was extremely fortunate to be able to attend Court on regular occasions with barristers and to undertake my own advocacy. At times I did feel anxious; however any concerns were soon put at ease through the support of the partner I was working for and other colleagues in the department.
My second seat was spent in the firm's Residential Property department. The fast pace of the department and constant phone calls certainly kept me busy. I then moved on to work in the Commercial Litigation department. Working in the litigation department has improved my drafting skills substantially.
An advantage of undertaking a Training Contract at Sills and Betteridge is that there is flexibility with your training seats. Many firms choose your seats with no input from you, however Sills and Betteridge listen to your preferences and subject to the needs of the business, aim to place you in your desired seats.
I have thoroughly enjoyed my training contract with Sills and Betteridge. I am looking forward to the challenges that I will experience as a newly qualified Solicitor. I am certain that the training I have received here will provide me with the best start possible as a Solicitor.
Sills and Betteridge is accredited as an Investor in People and can award continuous progression and development (CPD) hours for its own internal training. Trainees are encouraged to attend all the training sessions offered by the firm. In this way, I learned about developments in all areas of practice, regardless of whether that was my current seat or not.
As a Trainee I primarily worked in the Firm's Lincoln office, but I also visited our other offices regularly for client appointments. The atmosphere throughout the firm is extremely welcoming. Everyone, including the partners are approachable and always available to answer any questions or queries.
Steven Dowse
I started my Training Contract with Sills & Betteridge in September 2013. I have completed seats in Family, Litigation and Residential Conveyancing.
My seat in the Family Department gave me the opportunity to work on matters such as residence and contact disputes, care proceedings, domestic violence, divorce proceedings and Ancillary relief proceedings. I developed communication skills by seeing and advising clients. I enjoyed going to Court with Counsel where I learnt how to effectively present a client's case.
The litigation seat provided a wide variety of files for me to gain experience in. I became familiar with the process of bringing and progressing a claim. I was given tasks such as drafting Claim Forms and Particulars of Claim. I was allowed to develop advocacy skills by presenting client's cases in the County Court. The varied case load and number of different enquiries in this department enhanced my ability to think on my feet as no two cases are the same.
Working in the Conveyancing department has allowed me to be involved in a transaction from start to finish. I have found it rewarding dealing with the sale and purchase of client's property as you are responsible for such an important process.
Sills & Betteridge provide trainees with responsibility from day one as well as regular feedback and supervision to enable you to develop your skills. Regular training days and case law updates are provided.
The opportunity is also provided for Trainees to become involved a range of marketing and social activities of the firm. I have been involved in presenting a mock trial to local children and have been involved in playing football against other law firms and local businesses as well as running the Lincoln 10k for the firm.